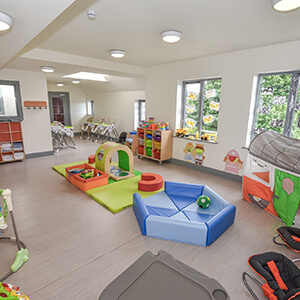 Babies
0 - 2 Years
Our "Baby Sanctuary" has a staff ratio of 1:3, for children between the ages of 6 weeks to 2 years. The "Sanctuary" is divided into two rooms: "Baby Room" and "Wobbler Room". The baby room has been designed to provide a warm and welcoming atmosphere with soft furnishings and an integrated, cosy, sleep room; as we believe that sleep is a vital part of a baby's development. We have included a milk kitchen into our baby room so that breast milk can be stored correctly and formula milk can be freshly prepared. The room offers a calming home from home so that the babies receiving bottles, can be cared for in the loving arms of one of our staff. Those babies who are ready for the next step will be provided with a home-cooked hot lunch, as well as morning and afternoon snacks.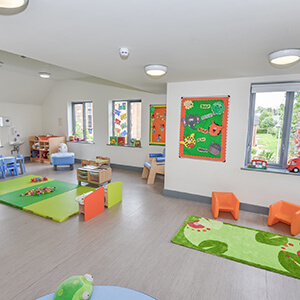 Wobblers
0 - 2 Years
Babies will move across into "Wobblers" when they become more independent. It is a busier, livelier, room, where the children have plenty of space to move around and develop the gross and fine motor skills. The babies in this room visit our garden often as well as enjoying sensory activities in the play room. The "Wobblers" are encouraged to sit at our small tables and socialise with their friends as well as enjoying more finger foods and self feeding. This room also has a dedicated sleep room attached with larger cots to give them more space to enjoy a peaceful sleep. In "Wobblers" the children enjoy dancing to music, listening to stories and begin to learn colours and shapes.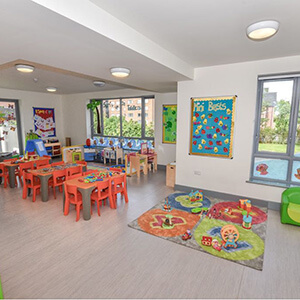 Toddlers
2 - 3 Years
Our "Toddler" room has a staff ratio of 1:4 and focuses on children aged 2-3. This room is a beautiful, bright, spacious playroom with lots of natural light.
We follow the 4 areas of development: Social; Emotional; Intellectual and Physical. In "Toddlers" our staff will plan activities which will stimulate and encourage the children to develop in these four areas.
A large selection of play opportunities are available including; art easels, sand/water trays and large and small construction toys. Outdoor play is an essential part of the daily routine and the safe, enclosed, state of the art outside play space has been purposefully designed to provide further learning opportunities for our "Toddlers".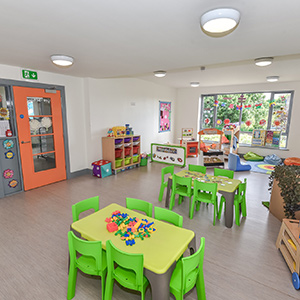 Pre-School
3 - 5 Years
Our Pre-School Room is a large, bright, spacious area, with direct access to our beautifully resourced garden and sheltered overhang; so learning can take place both indoors as well as out all year round. We follow the Department of Education for Northern Ireland, Curricular Guidelines for Pre-School education. This is divided into six areas of learning which are: Communication, Language and Literacy; Mathematical Development; Personal, Social and Emotional Development; The World Around Us; Physical Development and Creative Development.
At "Little Seedlings" our "Pre-School" room will operate a Key Worker Scheme; this enables our staff to closely monitor each child's progress and development. Our staff will plan and review activities alongside our manager: who has over 10 years' experience of teaching in the Foundation Stage.